Boonah State School receives helping hand thanks to CRT
Posted on Thursday 23rd June 2022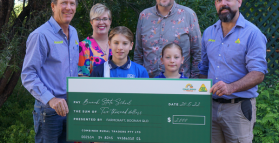 The inaugural CRT Primary Schools Program is providing support for projects that will have a big impact on rural and regional primary schools across Australia.
The Boonah State School P&C is one of 25 successful applicants in the first round of the program, receiving a gift of $2,000.
Chayne Newlove, Farmcraft Boonah Branch Manager, says schools play a vital role in their regional community.
"This program is focused on recognising the important role P&F associations play in supporting the growth and development of the next generation," says Mr. Newlove.
"CRT is proud to provide a helping hand to support Boonah State School with purchasing Decodable Readers for the newly implemented Read 3 Program for lower-level literacy students. The Decodable Readers will be used alongside this reading program as they've been written specifically for the progression of letters and sounds, giving students the the opportunity to practice what has been taught."
CRT General Manager Greg O'Neil says they are overwhelmed by the response of the program in its first year.
"We received more than 300 applications this year which made it really difficult for the selection panel to narrow that down to our 25 successful applicants," says Mr O'Neil.
"With Covid resulting in the cancellation of many community events over the past two years, we know this has impacted the ability for volunteers to fundraise in their local communities. So, we are excited to support a wide range of school initiatives through the CRT Primary Schools Program."
"This years' funding will support literacy resources, community gardens, sporting equipment, excursions, and cultural engagements for students," says Mr O'Neil.
The CRT Primary Schools Program will return in 2023.
For a list of successful applicants visit: www.crt.com.au/primary-schools-program/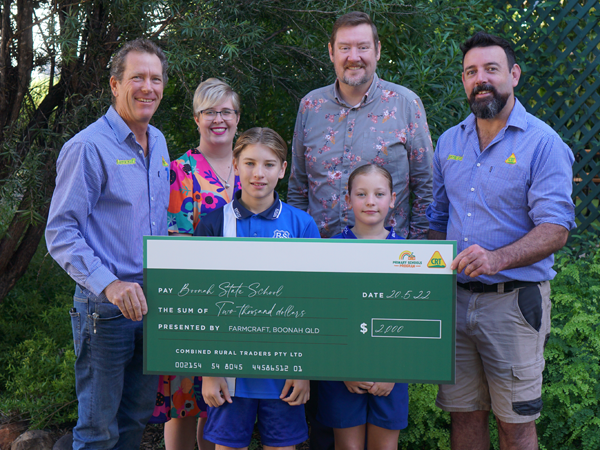 Pictured: Alistair Ross, Farmcraft Managing Director; Kelly Skewes (Boonah SS P&C President); Mark Windrow (Boonah SS Principal) & Chayne Newlove (Farmcraft Boonah Manager) with student leaders Jay and Brianna.