Farmcraft wins $2500 grant for local club!
Posted on Tuesday 5th January 2021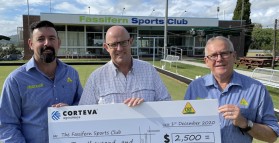 The Fassifern Sports Club from Boonah were given a surprise Christmas gift of $2,500 thanks to a promotional partnership between local sales reps from Corteva Agriscience and CRT Farmcraft.
To be in the running for the cash boost, outstanding local not-for-profit groups were nominated for the award by Farmcraft staff. The promotion was a joint initiative between CRT and Corteva, and is part of a community support campaign giving 30 grants of $2,500 each to exceptional not-for-profit organisations across Australia.
Local winner, the Fassifern Sports Club, will use their surprise grant to financially assist families with the high costs of registration, equipment & coaching.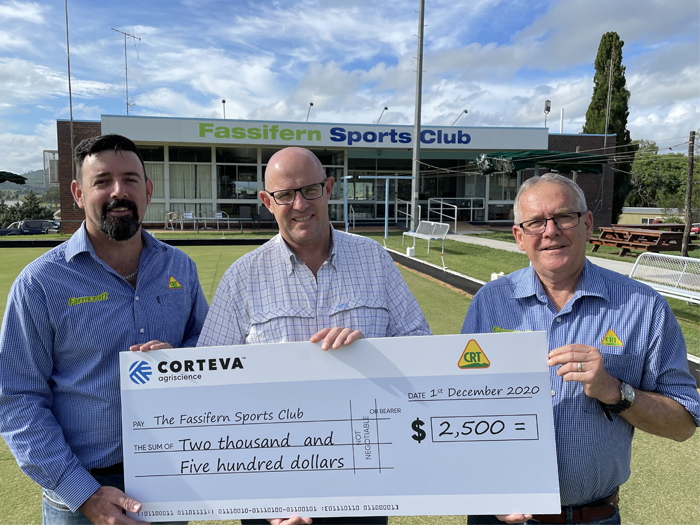 Farmcraft Boonah Manager Chayne Newlove (L) & Farmcraft Kalbar Manager Greg Hewitt (R) presenting the cheque to Club representative Ian Pocock.


Farmcraft Managing Director, Mr Alistair Ross, said they were delighted to be gifting the club $2,500.
"The Club is the initiative of 6 local sport associations aiming to make sport more accessible to all in the community, particularly our youth," he said. "We believe stimulating greater participation in sport and physical activity promotes health, well-being and social interaction in our community."
"They are a very deserving recipient and we're thrilled they won and that we can help them in this way."
Mr Richard Darvel, spokesperson for the Club, said the $2,500 gift is unexpected and extremely welcome.
"The grant is a wonderful surprise for us all and we're incredibly grateful. As a tight knit group, these funds will help benefit our local youth and community by lessening the burden to families and individuals through financial assistance for registration, equipment, coaching and the general workings of these six sporting groups," he said.
Corteva Agriscience's Australian Sales Director, Kirsty Ebert, said the company is committed to working with the communities they serve.
"2020 has been a challenging year with many highs and lows to negotiate. In times like these we recognise the importance our of local groups more than ever, which is why we wanted to give some needed support to stand-out local not-for-profit organisations,' Ms Ebert said.
"Corteva Agriscience strives to put farmers, consumers and their communities at the heart of everything we do. On behalf of Corteva Agriscience and CRT, we congratulate the Fassifern Sports Club for their win and thank them for all the incredible value they bring to their local communities,' she said.