DINE-a-CHOOK Chicken Feeder 4.7L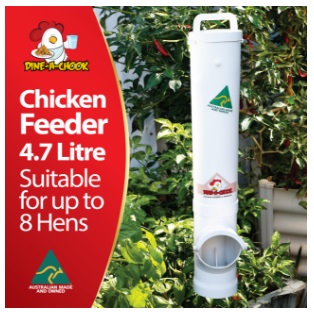 DINE-a-CHOOK Chicken Feeder 4.7L
99% Rain and Rodent Proof | Dine a Chook Chicken Feeders protect feed from rats, mice, rain and wild birds
Are you tired of sweeping up wasted feed in your chook pen? Sick of throwing away spoiled feed every time it rains? Dine a Chook's Automatic Chicken Feeder is your best chance to eliminate rodents and protect feed from rain. Now installed in thousands of chicken coops throughout Australia and the world, our no-waste feeders pay for themselves in no time!
No chicken feeder is 100% vermin proof. Even treadle feeders, which are marketed as "rat-proof," can be opened by the bush-rats that are common in many parts of Australia. And treadle feeders do nothing to stop chickens from spilling feed on the floor, which attracts the unwanted visitors in the first place.
Dine a Chook's patented, no-spill feeding bay is fitted with interior paddles to prevent chickens from raking feed. By reducing spilled feed, our Automatic Feeders are your best chance to deter rats, mice and pest birds from visiting your pen in the first place. Additionally, as the feeders are designed to be installed at "chicken-height", the most common chicken pen pests will find it hard to reach the feed if they do choose to visit. Good coop management is also essential to establish a rodent free environment. For customers that have a known rodent infestation, we suggest addressing this issue upon implementing a new Dine a Chook Feeder. Our Blue Ratshot baits are the only baits to use in and around chicken coops.
Dine a Chook Automatic Chicken Feeders also reduce the amount of feed that is wasted due to rain. Our PVC feeders snap together for a water-tight design. Unlike treadle feeders, which have moving parts that will eventually seize up and require maintenance, our feeders never fail and are engineered to avoid leakage. The feeding bay is fitted with a patented rain cover and gutter system which protects the interior feed and allows chickens to eat even in heavy rains. Our extensively tested rain protection system is so effective, we have made our own Storm Cover redundant!
Features of the 4.7 Litre Dine a Chook Automatic Chicken Feeder
730mm in height and suitable for 8 chickens.

Manufactured from heavy-duty PVC for strength and longevity.

No-waste feeding bay fills automatically as needed and has an adjustable depth. This no-spill design works well with most feeds sold by Australian poultry suppliers.

The extensively tested water-tight rain cover and gutter protect the feed even in heavy rain.

99% rodent and wild-bird proof.

Ergonomic lid and carry handle.

Rear mounting hooks are compatible with most wire meshes.
All Dine a Chook Automatic Chicken Feeders come with a complimentary mounting kit including screws and manufactured steel brackets for easy installation in your chicken coop or yard.
Severe rodent infestations
Note that a feeder can only do so much. If you have a severe rodent infestation, you will need to take active steps to combat the issue. Our feeder is just the first step. Good coop management is also essential.