Maximus Pour-on for Cattle 1L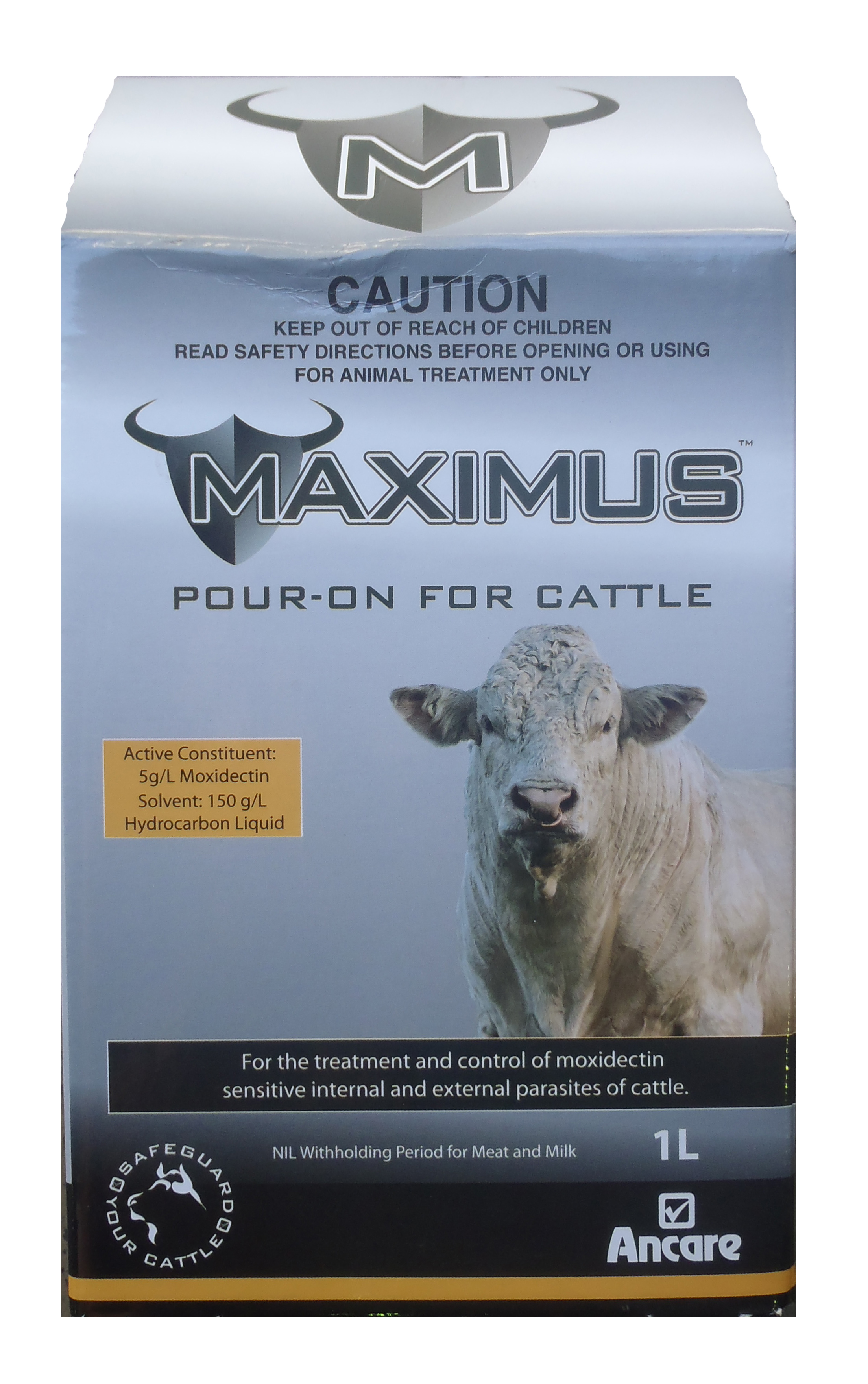 Maximus Pour-on for Cattle 1L
CATTLE TICK CONTROL
The persistent activity of MAXIMUS Pour-on for Cattle prevents the development of viable cattle tick for 21 days after treatment. MAXIMUS treats and controls strains resistant to OPs, SPs and amidines (amitraz) MAXIMUS can be used in strategic cattle tick control programs where treatment at 21 day intervals is recommended.
BUFFALO FLY CONTROL
MAXIMUS Pour-on can be used as an aid in the control of buffalo fly for up to 14 days after treatment.
APPLICATION
The dose rate of MAXIMUS Pour-on is 1mL/10kg liveweight. MAXIMUS is safe to use at the same time as other treatments including mineral supplements and vaccines. Do not apply at the same time as other pour-on products. Lactating dairy cattle must not be retreated at less than 21 day intervals.
WEATHERPROOF AND RAINFAST
The efficacy of MAXIMUS Pour-on is not affected by seasonal extremes of temperature or UV light. Although not good agricultural practice, efficacy is not affected if applied to wet cattle or prior to rain. However, efficacy against cattle tick and buffalo fly may be reduced if very heavy rain occurs following treatment.
DUNG BEETLE SAFETY
MAXIMUS Pour-on is not likely to have any significant adverse effect on Onthophagus gazella,
O.taurus, Euoniticellus intermedius and E.fulvus. Macrocyclic lactones are not likely to have any long term adverse effect on dung beetle populations
WITHHOLDING PERIODS
MEAT:NIL
EXPORT SLAUGHTER INTERVAL (ESI):NIL
MILK: NIL