Herbicide mix giving long-term weed control along fencelines
Posted on Monday 3rd June 2019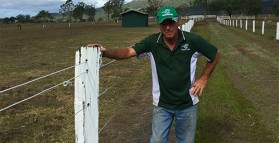 Whipper snipping the 15 kms of fenceline at Washpool Lodge was a time consuming job until a new herbicide mix giving weed control for up to nine months was introduced.
Washpool Lodge is a racehorse breaking, pre-training and spelling business close to Aratula in South East Queensland. The 400 acre farm currently accommodates around 200 horses.
Richard Smiles has worked at Washpool for eight years and is responsible for mowing the estimated 15 kms of fenceline surrounding the horse paddocks.
After speaking to Farmcraft agronomist Donald McMurrich, Richard trialled a new herbicide mix for residual weed control along the fencelines. A mix of Ultra Max (glyphosate) by Sinochem and Nufarm's Terrain herbicide was used, resulting in weed control for up to nine months.
This herbicide mixture is now used extensively around their non-crop boundary areas needing long-term weed control, greatly reducing the time spent in manual control.
"The whipper snipping required now is minimal," said Richard, "saving us considerable time. Mowers can easily control grass growth up to the sprayed fenceline area."
"When it rained after a recent dry period the paddock grass grew while the treated fencelines remained clear of grass and weed growth."
"I'm thrilled with the results," he added, "and we'll continue using the recommended mix for long-term weed control on the farm."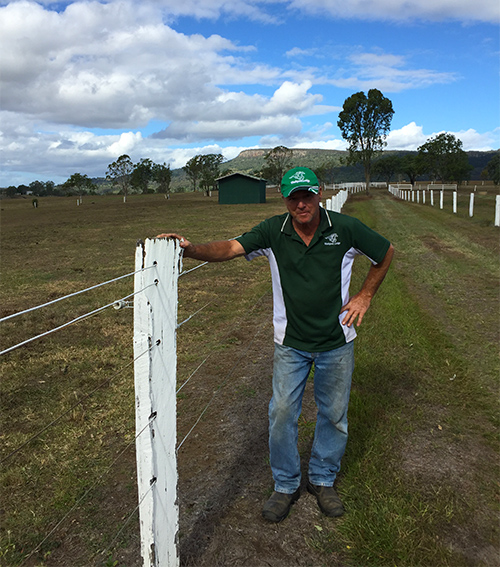 Richard Smiles, Washpool Lodge, Aratula Queensland
Achieving long-term residual control
The Ultra Max and Terrain herbicide mix gives both knockdown and pre-emergent activity to provide residual weed control for six to eight months in certain situations. Combining Terrain, a pre-emergent herbicide with residual control of a range of broadleaf and grass weeds, with a knockdown herbicide, improves brown-out and weed control.
After application Terrain can remain on the soil surface for up to three weeks, however rainfall is needed during this time to incorporate the product into the soil. Once incorporated, Terrain binds tightly to the top five centimetres of soil, forming a concentrated band of protection. A lack of incorporation can reduce efficacy of the herbicide.
For optimum efficiency:
Apply Terrain to bare soil. However, the herbicide mix will work in areas with standing grass and weeds as well.
Use a course to very course spray nozzle.
Time application so that rain will incorporate Terrain into the soil within 21 days.
The period of residual weed control using the herbicide mix will depend on soil type, rainfall, weed species and foliage density. Lighter soil types (i.e. sand) may experience shorter periods of residual weed control, and dry weather following application may reduce efficacy.
We recommend seeking agronomic advice before using this herbicide combination and to always follow the product label instructions. For more information, including application rates, please contact your local Farmcraft store.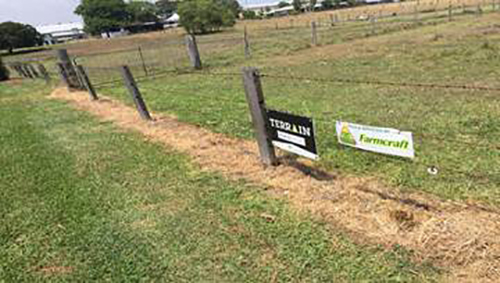 Second application of glyphosate and Terrain on a demonstration area in Kalbar. The first application lasted over seven months.