New herbicide in onions shows promise
Posted on Tuesday 13th August 2019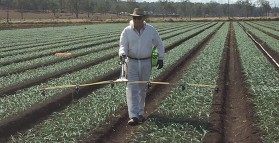 Farmcraft values research and development into new inputs that can offer production or application benefits to our clients.
We regularly support and assist with trials of new plant varieties, agricultural chemicals and fertilisers. These new products are often assessed in small plot replicated plots before full scale field trials are undertaken.
Farmcraft recently conducted a small plot trial with Nufarm using Maya, active ingredient bromoxynil, a new selective herbicide for pre- and post-emergent control of selected broadleaf weeds in onions.
Maya is currently an unregistered product restricted to use under APVMA permit PER87914.
Maya is being developed to replace Totril (ioxynil active), a herbicide commonly used in onions, but which is becoming increasingly hard to source as companies producing ioxynil withdraw from the market.
Totril herbicide is generally tank mixed with Juggler (methabenzthiazuron active) and applied from the second leaf growth stage every 7–10 days for weed control on onions, with up to 3 applications.
This has been a successful weed control strategy for many years, however the limited supply of Totril means we are looking for effective alternatives.
Maya was applied by itself and in combination with Juggler at different concentrations, with treatments repeated two or three times in sections to assess both weed control and any effects to the crop.
The best weed control was demonstrated by a combination of Maya at the equivalent of 750 ml/ha and Juggler at 750 ml/ha, with 3 spray applications to the onion crop from 2 leaf growth stage. This combination did have a visual negative effect on the crop for a short time which it grew out of after a period of time.
We are monitoring the trial until harvest, when we'll assess the yield and determine whether the early herbicide induced crop injury affected the final crop yield.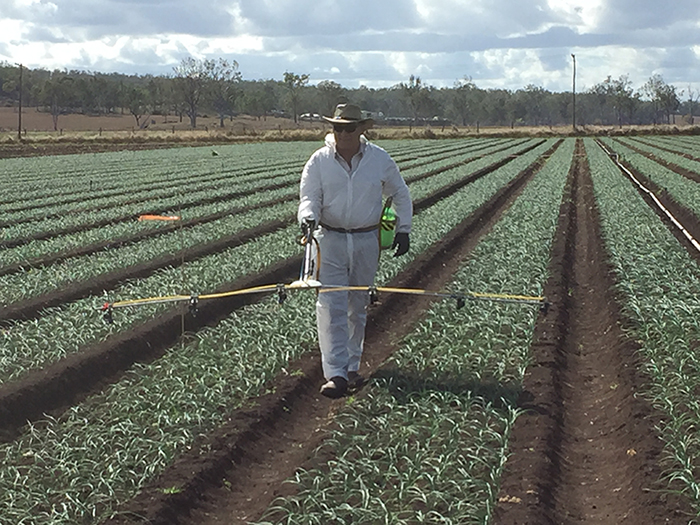 Frank Taylor - Nufarm, in Maya herbicide strip trial
Small Plot Trials
Small plot replicated trial plots are commonly 1-2 meters wide and 5-10 meters long. They need to be repeated, randomised and replicated. They're often used to assess new inputs as they are easier and cheaper to manage than full scale field trials.
It's then possible to generate statistically relevant scientific information, meaning Farmcraft staff are able to provide up-to-date and accurate advice to our producer clients.
Inputs with favourable results in small plot trials are then scaled up to field scale trials.
Related Articles