Y-Tex Python Tags 20 Pack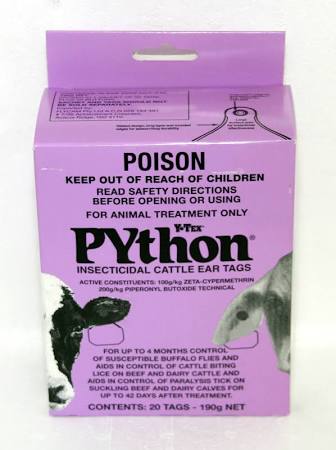 Y-Tex Python Tags 20 Pack
PYthon is a fast-acting, sustained-release ear tag containing a new, synergized S-isomer pyrethroid compound, making it the newest and most technologically advanced insecticidal ear tag registered by the Australian Pesticides & Veterinary Medicines Authority for Buffalo fly, Cattle Biting Lice and Paralysis Tick control. PYthon has excellent activity against Buffalo flies, including Buffalo flies that are resistant to certain other insecticides. A high loading of piperonyl butoxide synergizes this S-isomer and dramatically reduces the effect of pyrethroid resistance, making PYthon ideal for rotation with diazinon tags. PYthon's exclusive Tri-Polymer matrix of non-toxic inert constituents continuously delivers a high ratio of synergist to insecticide for maximum insect-killing action. PYthon's net weight of 9.5 grams allows it to be used on cattle of all ages.
EFFECTIVENESS
For up to 4 months control of susceptible Buffalo Flies and aids in control of Cattle Biting Lice on beef and dairy cattle and aids in control of Paralysis Tick on suckling beef and dairy calves for up to 42 days after treatment.
PACKAGING
PYthon is packaged in sachets containing 20 tags and is available in boxes of 20, 100 and 500 tags..

PRODUCT ADVANTAGES
Registered for use on beef and dairy cattle, including newborn calves and lactating dairy cattle.

Works very rapidly, usually eliminating Buffalo flies within 1 day.

Brings proven weight gains.

Reduces need for frequent insecticide treatments and mustering costs.

Works well as an integral component of an insecticidal rotation program with OPtimizer and other organophosphate ear tags to help prevent Buffalo fly insecticide resistance.

The name with upper case "PY", informs end-users of the chemical class of the PYthon ear tag, i.e., PYrethroid. For rotation, OPtimizer is similarly named; i.e., "OP" for OrganoPhosphate.

Has Nil Withholding Period and Nil Export Slaughter interval.

Has Y-TEX patented Snap-Lok collar for guaranteed retention against tag or button failure for 5 months.

Uses the proven Y-TEX two-piece application system.

Is rainfast and dipfast.

Can be safely used in conjunction with other pesticide and medicinal applications; e.g., cattle tick acaricides and anthelmintics.


Is environmentally friendly.
REQUIREMENTS
A specially designed Y-TEX eartag pin is required when inserting any Y-TEX eartags. Click to browse Y-Tex Eartag Pin T/S Python & Python Maxima Tags
DIRECTIONS FOR USE
Restraints: Remove tags prior to slaughter. Animal and Pest: Cattle including lactating dairy cows - Buffalo Flies, (Haematobia irritans exigua), Cattle Biting Lice (Damalinia bovis) & Paralysis Ticks (Ixodes holocyclus) for up to 42 days. State: Qld, N.S.W., N.T., W.A. Buffalo Fly All States - Cattle Biting Lice and Paralysis Tick
Rate: One tag per each ear of each animal (2/head) for Buffalo Fly & Paralysis Tick - One tag per head for Cattle Biting Lice control.
Critical Comments: For Buffalo Fly control: Apply only when fly numbers exceed acceptable levels. Removal of tags at 4 months will ensure fly populations are not exposed to sublethal doses which may increase the chance of resistance. Remove tags with tag removal knife. The level and duration of control may be reduced under high fly pressure. The whole herd is to be treated concurrently.
For Cattle Biting Lice control: Apply tags in late Autumn or early Winter and remove after 3 months.
For Paralysis Tick control: Aids in control of Paralysis ticks (Ixodes holocyclus) for up to 42 days. For effective control, both cow and calf should be treated.
WITHHOLDING PERIODS:
Meat: Nil Milk: Nil
TRADE ADVICE EXPORT SLAUGHTER INTERVAL (ESI):
Nil days The treatment regime with a strategic rotation program will reduce the potential for insecticide resistance to develop in buffalo flies. More than 90% reduction in biting lice numbers over 70 days can be expected with the use of Python tags.
NOT TO BE USED FOR ANY PURPOSE, OR IN ANY MANNER CONTRARY TO THIS LABEL, UNLESS AUTHORIZED UNDER APPROPRIATE LEGISLATION.
GENERAL INSTRUCTIONS:
PYthon Insecticidal Cattle Ear Tags will give effective control of Buffalo flies if used regularly on all animals in the group. The treatment regime with a periodic insecticide rotation program will reduce the potential for insecticide resistance to develop